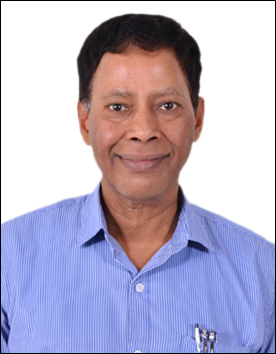 Krishna Kant  Dean Sec. 128Email : k.kant@jiit.ac.in
Educational Qualifications
Ph.D in Computer Science, 1981, Indian Institute of Technology ( New Delhi )
M.Sc (Tech) Computer Science, 1975, Birla Institute of Technology and Science , Pilani (Rajasthan)
M.Sc Physics (Specialization – Electronics), 1972, Government Science College, Jabalpur (M.P)
B.Sc, 1970, Government Science College, Jabalpur (M.P)
Higher Secondary, 1967, Hitkarni Higher Secondary School, Govind ganj , Jabalpur (M.P)
Work Experience
1976 -1983 Deputy Project Engineer, Radar & Communication Project Office, Ministry of Defence, New Delhi.
1979-1983 Senior System Engineer, Appropriate Automation Promotion Programme, Department of Electronics, New Delhi.
1984-1988 Joint Director & Chief Coordinator, Microprocessor Application Engineering Programme, Department of Electronics, New Delhi.
1989-1993 Additional Director, Microprocessor Application Engineering Programme, Department of Electronics, New Delhi.
1994-1998 Director, Microprocessor Application Enigneering Programme, Department of Electronics, New Delhi.
1999-Nov. 2009 Senior Director, Knowledge based Applications, Rural, Social & Water Sector Applications, Digital DNA Park Project, Manpower Development Division, Bioinformatics Initiative Division.
Dec.2009 onwards. Dean (Academics) , Jaypee Institute of Information Technology, Sector – 128, Noida (U.P)
Publications/ Keynote address/ Invited Talk/ Panel Discussions/Session Chairman
On this selection of computer systems, CSI Communications, August, 1980.
The display systems and terminals in plants Communication International, February, 1981.
On the interfacing intelligent terminal journal to computers, International Conference on Microcomputers Applications to Industrial Contral, Jadhavpur University, India, Feb., 1981.
On the design of an automatic hospital, 3rd congress of medical informatics, Europe, March, 1981.
Dynamic Railway traffic control Rail International Journal, June, 1981.
Dynamic Automatic railway traffic control, -Rail International Journal, June, 1981.
Microprocessor Applications in Railways, Conference on Power, Electronics in Railways-IISc, Bangalore, June, 1982.
Microprocessor Applications in Industrial Control-Forth language Seminar at PRL, Ahmedabad, 1983.
Microprocessors and its advancement-National Seminar on Microprocessors in Industrial Control, New Delhi-1985.
Microprocessor System for Measurement of Road Geometrics and Surface Conditions, International Conference on Road and Road Transport Problems. (ICORT-88).
Microprocessor System for Road Survey, National Seminar on Electronics System & Development (CEERI Pilani), Sept., 1988.
Microprocessors based system for Measurement of Road geometry Seminar on Applications of Electronics in automobiles-ARAI, Pune, 1990.
Role of Electronics in Air Pollution Monitoring- Enviro 2000-1992, New Delhi.
Some aspects of electronics and microprocessors applications in utility sectors, Indian Science Congress-1993.
Automation of Haiderpur treatment Plant Indian Water Works, Annual Convention-1994.
Some Aspects of Electronics and Microprocessor Applications in Utility Sector At Indian Science Congress, Jaipur-January 1994.
Automation in Water Treatment plant, Waste Water Treatment Plant, Irrigaiton Canal-case studies during World Automation Congress-96, Montpellier, France (May 27-30, 1996).
Presented two papers on 'Need for canal Automation' and Case Study on Canal Automation (Khadakwasla System) during workshop on Canal Automation (20-22 Nov., 96) organised by CBIP at Bhubneswar.
Presented three papers on-Air Pollution affects, Sensing technique and DSS for ambient Air Pollution during EPTRI Workshop (24-25 April 1997).
Presented two papers on Canal Automation and Evolution of Microprocessors during Canal Automation Workshop organised by CBIP, Kerala (28-30 April 1997).
Presented two papers on IT in Automation and Environment decision support systems during National Conference on IT for Industrial & Organisation Development by HRD foundation (17-18 October 1997).
Presented three papers on Automation philosophy, Area of Automation and Water Distribution Automation during the National Seminar on Automation of Water Treatment Plant (20-21 November 1997).
Presented two papers on sensing techniques, and DSSF or ambient air pollution monitoring during EPTRI Workshop (6-7 Aug. 1998).
Redressal of Rural problems through Information Technology, Yojna Sept. 2002
Can Information Technology help in solving the water problem – Yojna, June 2003
Can IT help solve water problem? Hindu 17 July, 2003
Get real, pick sites for flood forecast Geospatial Today, Sept.-Oct 2005.
BRAF: A computational Infrastructure for Bioinformatics Research. ISMB-2008
C-ReX: an open source bio-sequence visualization tool based on polygonal chaos Game representation Bioinformatics Journal (sent for publications)
Keynote address/Invited Talk
Microprocessors Advancement-Delhi Institute of Technology, 1981.
Introduction on Microprocessor and its Applications at National Productivity Council-1986.
Microprocessors Applications in Water Treatment Plant Automation-Indian Water Works Convention, 1988.
Automation of Water Treatment Plants strategies-Annual conventional of Indian Water works Association-1989.
Process Control and Super computer-IEE Seminar on Control & Instrumentation at Pune, December, 1989.
Automatic test equipment for Microprocessors based System, National Seminar on Maintenance based productivity-National Productivity Council-February, 1990.
Artificial Intelligent System and their applications, Workshop on use of computers in teaching physics, Jabalpur, Dec., 1962.
Microprocessors based System Development under new Electronics Policy, Seminar on Prospects of growth of electronics under new policy-IETE Jabalpur, 1992.
Microprocessors Applications in High way Engineering, National get together on Road Research and its utilisations-1992.
Microprocessor Applications in Tea Industries, National Seminar on Tea Electronics, Jorhat, October, 1992.
Managing environment with the help of Electronics, Water India Conference-1993.
Microprocessor Applications in Instrumentation in Alternate Sources of Energy, Interkama-94, 1994.
Delivered an invited talk in Intercoma 94 on Microprocessor Applications in Instrumentation in Alternate Source of Energy.
Delivered Keynote address on Microprocessor Applications for Pollution Monitoring during Training course on Pollution Monitoring and Control-2nd July, 1996, IETE Hyderabad.
Talk delivered on All India Radio titled Phone in Programme-Grameen Janjeevan-Aur Suchna Prodhyogiki on 12th September 2000.
Delivered special lecture on 'Application of IT in Rural Development' during CII conference on IT in Agriculture and Rural development on 5th December 2000.
Invited talk on Technology Applications for Rural Development during Swadeshi Vigyan Mela – 12th to 19th January, 2002, Ernakulam.
Delivered Invited talk on GIS and its applications in Watershed Planning during National Seminar on GIS Applications in Micro level Planning, 18 Feb 2002 at NIRD Hyderabad.
Delivered Invited talk on status of Agri-Instrumentation & IT Applications in Agriculture in the country during RAAI-2002, 25 Feb, 2002 at CEDTI Aurangabad.
Delivered invited talk on KPO for the Growth of IT during IETE Apex Forum on 16 September 2006.
Delivered invited talk on Advancements in Instrumentation and control during CEP on 19 September 2005 course at DRDO New Delhi.
Delivered invited talk on Genomics for better health. National Seminar on Bioinformatics University, Tiruchirapalli 24 February 2009.
Delivered invited talk on Advancements in Genomics, National Seminar on Application of Bioinformatics in Genome Research Pondicherry University, 15 February 2008.
Delivered invited talk on Computational Biology and Grid Computing during EU-India Grid workshop on Applications in Computational Biology, MANIT, Bhopal 5 May 2008.
Delivered invited talk on Convergence of Nano, Bio, Info during Bioinformatics Indica'08 Kerala University, 17 Jan 2008
Panel Discussions/Session Chairman etc.
Chaired technical session in National Seminar on Microprocessor in Steel Industry, Ranchi Sept., 1987.

Chaired technical session in International Symposium on Electronic Measurement Techniques and Microprocessors in Agriculture, Jabalpur, March, 1988.
Chaired Session during seminar on Applications in electronics in automobiles, February, 1990, ARAI.
Participated at panel discussion on maintenance in electronics and electrical equipments, National Seminar on maintenance on productivity, February, 1990.
Chaired Session on PC Based Instrumentation, Indian Science Congress, 1993.
Chaired session on Improving Quality of Life in conference on IT in Agriculture and Rural Development organized by CII on 5th December 2000.
Patents
Microprocessor based device for recording geometric and surface parameters of the road.
Microprocessor Based Track Recording System for Railways.
Microprocessor Based Ride Index Monitoring System for Railways.
Microprocessor Based Vibration cum Speedometer for Railways
Books
Microprocessor based Data Acquisition System Design published by Tata McGraw Hill (1987).
Microprocessor Applications for Productivity Improvement published by Tata Mc Graw Hill (1988) – coedited.
Computer Based Industrial Control published by Prentice Hall of India (1997).
Digital Control Systems, Published by Indian Society for Technical Education (2001).
Microprocessor and Microcontrollers Architecture, Programming and System Design by Prentice hall of India. (2007).
An Introduction to Microprocessor and Applications by Macmillion (2009)
For detailed profile visit web site – www.krishnakant.in