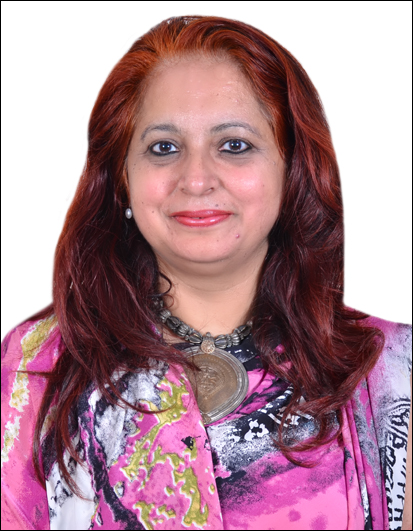 Assistant Professor (Grade-II)
Education
Pursuing Ph.d. in Management from Jaypee Institute of Information Technology, Noida
M.B.A (HR) from University of Lincolnshire and Humberside, U.K.( now University of Lincoln, U.K.)
M.A. Eng Literature (Punjab University, Chandigarh)
B.A English Hon. (Silver Medalist from Punjab University)
B.Ed in English & Special English
Biography
A total of thirteen years experience in the academic and corporate industry.
As a senior faculty of Humanities & Social Sciences I have been conducting classes in Presentation & Communication Skills, Organizational Behavior, Personal Growth, Training & Development and Stress management for Engineering and Management students for the last twelve years.
Worked in the capacity of an Associate Dean in the area of Extracurricular Activity for a period of two years and organized events and conducted in-house cultural and literary activities.
Have been associated with Rotary Club members and have organized Blood Camps for them
A corporate experience of three years as Supervising Executive and Assistant Manager with Taj Group of Hotels and as a marketing and commercial executive at Bhopal with a Delhi based local magazine.
Publications
Workshops/ Seminar/ Professional Projects
Presented a Dissertation on "Techniques to manage Stress in the Corporate World", as a project of the MBA course.
Conducted an Orientation workshop on "Soft Skills in a Student's Life" for students of WLC College on July 24th, 2008.
Attended a five day Faculty Development Workshop on "Statistical Data Analysis using SPSS Software" organized by JIIT, Noida (June 2010)
Attended a Seminar on the "Role of Emotional Intelligence and Spiritual Intelligence to enhance performance & productivity at workplace" on August 27, 2010 organized by DMA at India Habitat Centre, Delhi
Attended and participated in the Seminar on "Entrepreneurial Development" organized by JIIT, Noida in October 2010
Attended a Fund-Raising event on "Fund - Raising through Environmental Awareness" at Hotel Crowne Plaza, Gurgaon in November 2010
Attended and participated in the Seminar on "A to Z of Stress Management" organized by Delhi Management Association at India Habitat Centre, New Delhi on February 2011
Attended and participated in a three day FDP on "Research Methodology & SPSS", organized by Birla Institute of Technology, Ranchi (Noida Campus) from June 9-11, 2011
Participated in one day Seminar on "Why to be an Entrepreneur?" organized by the department of Humanities and Social Sciences, on November 12, 2012.
Attended the HR Meet on "Unleashing the Talent Potential", organized by SRM University and sponsored by NHRD on July 27, 2013 at Hotel Hyatt Regency, New Delhi.
Professional Achievements:NCERT Scholarship holder and in the merit list of Punjab University
Organized a blood camp for the Rotary Blood Bank in 2008 where 237 units blood was donated
Guided students for the student magazine " Kritie" on student activities and events held in the college in 2012
Faculty In charge of the Literary Hub of Jaypee Institute of Information Technolgy, Noida
Convener for the Jaypee Youth Parliament 2012, which elicited participation from colleges in and around the NCR
Convener for the first edition of a national level Jaypee Youth Parliament 2013, which elicited participation from high schools and colleges across India
Convener for the two day Jaypee Model United Nations 2012, two day Jaypee Model United Nations 2013, student conferenceswhich elicited a strong participation of about 400 students each time from across different parts of the country. The event was strongly supported by the UN Council in New Delhi, US Embassy in New Delhi and well known corporate houses of Airtel.