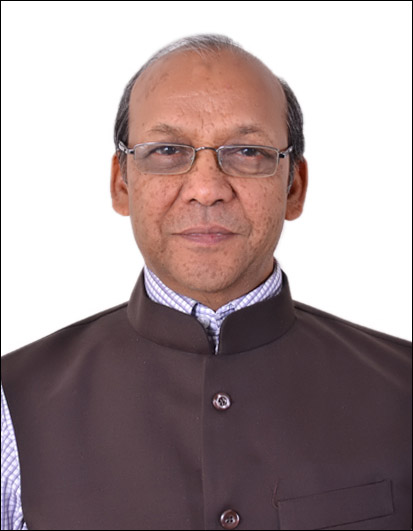 Dr. Hariom Gupta
Dr. Hari Om Gupta was born in Agra, India. He obtained his B.E. in Electrical Engineering from the Government Engineering College, Jabalpur securing 1st position in Jabalpur University. He received his ME in Systems Engineering and Operations Research and Ph.D. from Indian Institute of Technology, Roorkee in 1975 and 1980, respectively. Before joining JIIT as Director Noida-sector 128 he was working as Professor in the Department of Electrical Engineering and Dean Faculty Affairs, at Indian Institute of Technology, Roorkee, India. Worked as Head, Department of Electrical Engineering from 2002 to 2005, Dean Academic (UGS) 2005-06, Dean Academic (PGS &R) 2007-08, Dean Academic Research 2008-2009 and Dean Academic Studies 2010. He visited McMaster University, Hamilton, Canada, from 1981 to 1983 as a post-doctorate fellow. Dr. Gupta has also visited Iraq, Italy, Spain, USA, Singapore and Oman on various assignments.
Dr. Gupta also has rich industrial experience and associated with Ontario Hydro, Canada, Kanohar Electrical Limited, Meerut, Electra (India) Limited, Meerut, and  Mahashakti Conductors Pvt Limted Bhatinda. He conducted many special courses in area of Energy audit, Distribution efficiency and demand side management, Distribution transformers and other areas of electrical engineering.
Dr. Gupta has organized many national and international conferences. He held many administrative responsibilities in IIT Roorkee including Member REE-2001. President Teaching and class A staff Association for two years, President Staff Welfare Fund for two years, Member Syndicate 1992-2001, Chairman, PG admission committee two times, Deputy Director, STEP IIT Roorkee and associated with various committees of few educational institutes as well.
Dr Gupta has published over 340 research papers, 35 technical reports. All citations of his articles are over 4632. His h-index and i10 index are 32 and 82 respectively. He edited proceedings of four conferences and two books. He has supervised 36 Ph.D. and 1 in progress and over 45 M. Tech. scholars. He has worked for 6 sponsored and over 30 industrial consultancy projects.
Dr Gupta is recipient of 12 awards on research work and selected starred performer by IIT Roorkee for years 2002-03, 2003-04, 2004-05, 2005-06, 2007-08. He is also recipient of Mathur Vashya Ratna awards for his achievements and social services. He is Senior Member IEEE, Fellow IE(India), Life member of NIQR, ISTE, and System society of India. He is reviewer for research papers for many national and international journals. Dr. Gupta was a member of the technical committee for distribution transformers constituted by BEE, GOI. He has worked as non Executive Director in MP Power Transmission co. Limited Jabalpur from 2008 to 2011. He is also non Executive Director of MP PK Vidyut Vitaran Co. Ltd. Jabalpur from 2006 to 2021. He was a member of BOG, and that of Building and works committee of IIT Roorkee and also Chairman, Convocation 2008 of IIT Roorkee.
His research interests are in the area of computer-aided design, reliability engineering, power network optimization, distribution system automation, power quality, power & distribution transformers and DBMS.