Student Pre-Start up Projects
DRID has initiate 3 schemes namely Student Pre-Start up projects, Faculty Innovation Projects and Centres of Excellence.
Under the student pre-start up scheme, seed funds are provided to the student teams to carry out innovation driven project work. The work carried out as a part of the pre-start up projects is expected to carry forward the student teams to the entrance of the innovation hub. DRID and Jaypee University system will provide hand holding and technical and business mentorship to the student start up teams. 6 Student Pre-start up Projects have been approved and seed funds have been provided. A fresh call has been made and it is expected to approve about 60-70 projects in the 2nd phase,
1. HIMMEL HAWKS
To make use of reliable and precision data captured through drone for better decision making of the field inputs
Student team: Shivam Mukherjee, Lehen Zehra and Vaishnavi Dubey.
Faculty Mentor: Dr Alok Joshi (JIIT)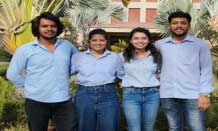 2. FOOD SAVER
About 6 % of global greenhouse gas emission are produced due to wastage of food. This cause global warming, harm to the environment, wastage of food (which can be fed to the poor), wastage of resources and wastage of money. Food Saver is a device that will keep you informed of the status of the food and warn you before the food expires or is wasted.
Student Team: Mohit Lamba, Nakshatra Maharishi, Hritik Agarwal and Priyanka Kakkar.
Faculty Mentor: Dr Vikas Saxena (JIIT)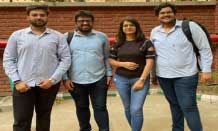 3. COVID AID MAT
The pandemic made us realize that any disease/infection if not contained can become highly infectious. To prevent this, there is a serious need of effective screening. With our mat we aim to conquer these problems by introducing a smart device which will make use of IoMT and ML techniques.
Student team: Arunima Saxena, Jatin Pathak, Dharuv Verma.
Faculty Mentor: Mr Raghvenda Kumar Singh (JIIT)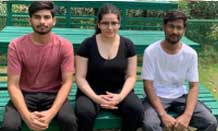 4. AR PLATTAR
To increase engagement and enhance customer experience through infotainment and better visuals. To provide a digitalized menu with AR technology making contributions in the upcoming web 3.0 and also to minimize the confusion that occurs due to cultural, lingual or regional diversity by an Augmented representation of the product.
Student team: Utkarsh Rai, Virad Chaurasia, Vikas Saxena (JUET)
Faculty Mentor: Dr Nilesh Kumar R Patel.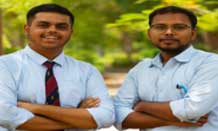 5. WEB BASED APPLICATION FOR DETECTION OF BIRTH DISEASES (BIO HACKERS)
To develop a potential web-based application that can serve as a diagnostic tool in screening out congenital genetic heart disorder. (also associated with Down's syndrome).
Student Team: Divya Jindal, Saloni Mittal, Vinayak Agarwal.
Faculty Mentor: Dr Ashwani Mathur (JIIT)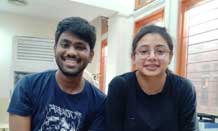 6. JARVIS
Jarvis is an AI developer assistant like you have never seen before. It's trained on billions of lines of code and can help you in almost every code-related problem. It answers your coding questions, explains you the code, generates documentation, calculates the time complexity of functions and does many more things which increase the productivity of the developer and make programming fun and easy.
Student team: Ayush Singhal, Vinay Patwal, Ishan Goswami.
Faculty Mentor: Dr Gaurav Verma (JIIT)