All India Council for Technical Education (AICTE) was set-up in November 1945 as a national level Apex Advisory Body to conduct survey on the facilities on technical education and to promote development in the country in a coordinated and integrated manner. And to ensure the same, as stipulated in, the National Policy of Education (1986), AICTE be vested with statutory authority for planning, formulation and maintenance of norms and standards, quality assurance through accreditation, funding in priority areas, monitoring and evaluation, maintaining parity of certification and awards and ensuring coordinated and integrated development and management of technical education in the country.
http://www.aicte.ernet.in/index.asp


iGroup Company is a privately held company headquartered in Bangkok, Thailand. Its primary areas of business are distribution of printed and online materials. The company was founded as Book Promotion and Service in 1983 by Lee Pit Teong, currently the iGroup Chairman. At that time the company specialized in the distribution of printed books in Thailand and neighboring countries. iGroup was formally incorporated in 1999.
To reflect the new ways in which information can be stored and presented, the company now includes products and services such as distribution of electronic information on CD-ROM and internet/intranet media and library automation systems.
http://www.igroupnet.com/index.php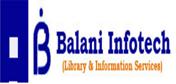 Springer Science+Business Media or Springer is a worldwide publishing company based in Germany with major offices in Berlin, Heidelberg, Dordrecht (Netherlands) and New York, which focuses on academic journals and books in the fields of science, technology, mathematics, and medicine. Within the Science, Technology, and Medicine sector, Springer is the largest book publisher, and second-largest journal publisher worldwide (the largest being Elsevier), with over 60 publishing houses, 1,900 journals, 5,500 new books published each year, sales of 924 million euro (in 2006) and 5,000 employees.
www.springerlink.com/


John Wiley & Sons, Inc., also referred to as Wiley, is a global publishing company that markets its products to professionals and consumers, students and instructors in higher education, and researchers and practitioners in scientific, technical, medical, and scholarly fields. The company produces books, journals, and encyclopedias, in print and electronically, as well as online products and services, training materials, and educational materials for undergraduate, graduate, and continuing education students