The Jaypee Institute of Information Technology University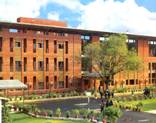 The Jaypee Institute of Information Technology University has been declared deemed to be University Under Section 3 of UGC Act. 1957 vide Notification No. F.9-27/2000-U.3 dated 1st November, 2004 of the Ministry of Human Resource Development, Government of India. The JIIT University is fully backed and supported by the Jaypee Group of Industries through its not for profit trust – Jaiprakash Sewa Sansthan (JSS). JIIT University is situated near the Electronic City, Noida (UP) and is at a distance of 3 kms from New Delhi – UP border. The state-of-the-art University campus constructed at a total cost of over 90 crores with a total built up area over 68000 sq.m comprises smart environmentally conditioned buildings with Internet connectivity, Academic Block, Faculty Residences, Student Hostels, Annapoorna well-equipped modern laboratories and Learning Resource Centre provide a pleasant and intellectually stimulating ambience for students in an eco-friendly environment. M/s Arcop Associates Pvt. Ltd. an eminent Canada based architect firm has done the architectural design of the campus with the construction undertaken by the Group itself. The University offers Doctoral, Post-graduate (M.Tech. and MBA) as well as Undergraduate programs (B.Tech.) in the disciplines of Computer Science & Engineering, Information Technology, Electronics & Communication Engineering, and Biotechnology. The JIIT University endeavors to produce engineers with a vision and capabilities to design and implement computer based systems, tools and equipment. Our graduates are possessed with appropriate inter-personal skills, group working skills, understanding engineering economics, finance as well as with knowledge of legal/social aspects of technology. Please refer to University website for further information www.jiit.ac.in
Learning Resource Centre (LRC)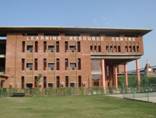 Learning Resource Centre (LRC) is the back bone of academic and research activities of the JIIT University. It caters to the information needs of the faculty members, students, staff, and research scholars. The LRC possesses around 28000 books and 14000 e-journals covering the disciplines of Computer Science, Information Technology, Biotechnology, Mathematics, Physics, Materials Science, Management and other areas related to Engineering, Science and Technology. The LRC collection also comprises of printed documents such as books, reports, theses, standards, atlases, patents and back volumes of journals. The non-book collection includes material like audio/video cassettes and CD-ROM discs, etc. The LRC is a member of Indian National Digital Library in Engineering, Sciences and Technology and All India Council foe Technical Education (INDEST- AICTE). It has been subscribing e-journals of IEEE, ACM, Springer Link, LNCS, Capitaline, EBSCO and various digital libraries. LRC is also a member of DELNET- Developing Library Network for sharing the resources among its member libraries. LRC is housed in a three storied separate centrally air-conditioned building which can accommodate around 350 users at a time to pursue their academic and research activities by way of reading books, accessing electronic journals and Internet, computer programming and software development, etc. It is connected to high speed Internet and Intranet of JIIT network. All activities of LRC are computerised, including bar-coded ID cards and separate On-line Public Access Catalogue (OPAC) terminals to know the status of books at any time. The LRC remains open 14 hours a day from 8 A.M. to 10 P.M except on holidays. The LRC has implemented an integrated electromagnetic security system (3M India) for safety of LRC material. The LRC has also started the development of Institutional Repository by using DSpace open source repository software.
Delhi College of Engineering (DCE)
With a long history stretching back over 67 years, DCE has been in the fore-front of providing technical education in an environment equipped with infrastructure and well qualified & experienced academic staff. DCE is strongly identified with quality engineering education in India. Since its inception DCE has been constantly leading the way in reform movements, and in the latter era of the Republic of India, DCE has assumed pivotal roles in the reconstruction, modernisation, and administration of the society. The efforts and expertise of DCE graduates have been of major contribution in the planning and construction of India's infrastructure. DCE is an institution which defines and continues to update methods of engineering and architecture in India. It provides its students with modern educational facilities while retaining traditional values, as well as using its strong industrial contacts to mould young, talented individuals who can compete in the global arena. The aim of DCE is to rank among leading universities globally. Consequently, DCE's mission is to educate individuals to be competitive not only in India, but all over the world. Please refer DCE website for further information i.e. http://www.dce.ac.in
The DCE Library System consists of Central Library and 10 departmental libraries that collectively support the teaching, research and extension programmes of the Institute. All the students, faculty members and employees of the Institute are entitled to make use of the Library facilities on taking library membership. The Library, besides having a huge collection of books numbering more than 160000 on engineering, science and humanities offers library services through its various divisions. Initially setup in 1941, the Central Library moved to its new building in May, 2004.To make the Delhi College of Engineering Library a 21st century Knowledge Centre and to facilitate the transition of today's engineering society to a knowledge base society of tomorrow, the knowledge generated by the faculty and students of DCE has been digitized and made accessible through Digital Library on Intranet or Internet. The Library Subscribes to 1300 e-journals and have access to 3000 e- journals of UGC infonet. Library also provides access to the collection of E-Books of various Publishers. For further information refer website i.e. http://www.library.dce.ac.in
Society for the Advancement of Library and Information Science (SALIS-Delhi-NCR Chapter)
SALIS- stands for Society for the Advancement of Library and Information Science. Like-minded library professionals established SALIS-Delhi-NCR Chapter in the year 2005. The primary focus was to provide need-based services to the profession and to work for the advancement of Library and Information Science (LIS). The current focus of SALIS Delhi NCR Chapter is to reach the unreached LIS professionals within the NCR and the Northern India. It also pays attention to the working library professionals of educational libraries as also the other segment of information specialists in view of the advances in the information and communication technologies and e-governance expectations from the professionals.
SALIS-Delhi-NCR Chapter is happy to provide the technical back-up for the success of the "International Symposium on the Emerging Trends and Technologies in Libraries and Information Services" ETTLIS 2008.