People from academia, research institutions and industries are invited to contribute their original and high quality research in the topic of interest, but are not limited to the following:
Category A

Functional Materials/Spintronics/Multiferroics
Optical/Optoelectronic Materials/Chalcogenides
Ferroelectrics/ Piezoelectrics /Magnetic materials/Ferrites/Superconductors
Insulators/Dielectric Materials/Ferroelectrics/Piezoelectrics/Ferrites



Category B

Materials Synthesis and Characterization
Glasses and Amorphous Systems/Ceramics, Polymers and Composites
Nano materials/Nanotechnology/Surfaces, Interfaces, Thin Films



Category C

Biosensors/Gas sensors
Solar Cells/Semiconductor Devices
Energy Materials/Fuel Cells/Batteries/Super capacitors



Category D

Computational methods, Simulation, electronic structures and Applied Physics
Theoretical and Computational Materials Science


Selected full papers will be published by ELSEVIER in Materials Today: Proceedings after peer review process.
Please use prescribed templates to prepare single page Extended abstract(s) and Full paper(s) in MS-WORD format.
A flowchart describing different major steps involved from submission to publication is given below.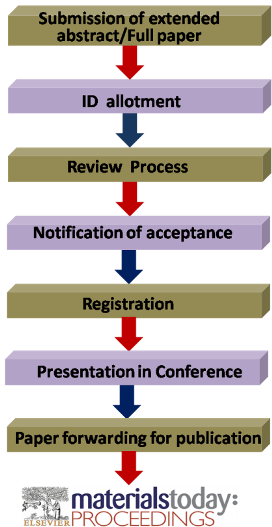 Contact Person:
Dr. Manoj Kumar
Dr. Sandeep Chhoker
0120-2594360
Email: amn2020paper@gmail.com