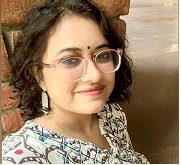 Assistant Professor (Grade-I)
ekta.singh@mail.jiit.ac.in
Education
Ph.D (Jawaharlal Nehru University)

M.A, Linguistics (Jawaharlal Nehru University)

B.A, English (Hons.) (ST. Xaviers College, Ranchi)
Biography
Dr. Ekta Singh has over two years of teaching experience and more than five years of research experience in the field if English Lanuage Teaching (ELT). She has completed her M.A in Linguistics and Ph.D from Jawaharlal Nehru University. Prior to working at Jaypee, Noida, she worked at IIT, Delhi as a guest faculty.
Work Experience
Teaching Assistant at Jawaharlal Nehru University (Jan 2017 – June 2017)
Assistant Professor at Dronacharya Group of Institutions (Jan 2018 – Sep 2018)
Assistant Professor at GD Goenka University (Sep 2018 – November 2019)
Guest Faculty at IIT, Delhi (Aug 2021 – Jan 2022)
Interest Area(s)
Applied Linguistics, English Language Teaching, English for Specific Purpose
Publications/Books/Patents
Published paper titled "Teacher's Evolving Action Research in Foreign Language Classrooms" in international journal IJELLH
Published paper titled "Developing Speaking skills in the English language courses using ICT for the Engineering students: An Indian Context"
Published book chapter titled "Innovations in ELT Classrooms Today: An Indian Context" in the book titled "Linguistics and Language Sciences: Issues and Perspectives in General and Applied Linguistics"; Printed and Published by Bahiri Publications
Attended/Abstract published in conferences
Presented a paper named "Possession in Kharia" at Akhra-2013, a national seminar organized by Central University of Jharkhand (CUJ).
Presented a paper titled "Action Research in Foreign Language Teaching in JNU: A Case Study" at National Conference on "Research in Education: Methodological Issues and Emerging Trends" held on March 4, 2017 organized by IASE, MHRD, Govt. of India held at CIE, University of Delhi
Participated in a two-day workshop on "Indian Sign Language – The language of Ability" organized by Linguistic Empowerment Cell, Jawaharlal Nehru University on 13th -14th January,2014.
Participated in National Conference on "Ethics in Research Involving Human Participants" organized by IERB and Ethical Review Board, JNU
Participated in two-day workshop on "EAW: Mind Mapping for Academic Writing" organized by Linguistic Empowerment Cell (LEC), Jawaharlal Nehru University on 6th -7 th April 2016.
Participated in the four-day Summer School and presented a paper titled "English for Business Purpose in the Era of Globalization: An Indian Context" at IIM Ahmedabad on 1st -4 th June 2017.
Member of the organizing committee of international virtual conference on 'Language Teaching Beyond the Classroom: Issues and Perspectives' held at Jawaharlal Nehru University, New Delhi, India on 21 & 22 August 2020.