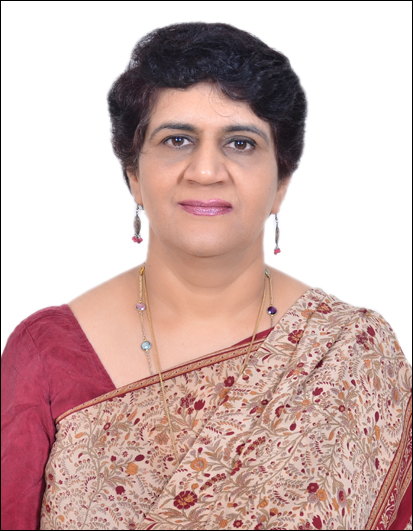 Head, Dept. of Biotechnology
BIOGRAPHY
Dr. Pammi Gauba, joined the Department of Biotechnology at JIIT in 2010. She has experience of 23 years in teaching and research since 1988 at different institutes in India and abroad.
Prior to joining JIIT She worked as an Adjunct Professor in Marymount College, Arlington, USA and NOVA College, Alexandria, USA. Apart from teaching in various colleges she also worked in NCERT as research associate and lecturer. Dr. Pammi did her Masters (Organic Chemistry) and PhD from Rohilkhand University, where her researches focus was to investigate the "Incidence of Lactose Intolerance in cases of Infantile Diarrhoea". Her current research effort focuses on the Inorganic and organic pollutants and their remediation.
RESEARCH HIGHLIGHTS
Heavy metal toxicity in raw herbs
Raw herbs and herbal formulations are used extensively all over the world especially in India as potent remedies to cure health aberrations and are also commercialized throughout for various medical purposes. phyto-pharmaceuticals are massively produced by pharmaceutical industry and in recent decades, the use of phyto-pharmaceuticals and herbal medicines has increased worldwide, for several reasons, among them, that their side effects are often lower than those presented when synthetic drugs are employed, as well as due to the higher costs of many conventional pharmaceutical formulations. Increasing urbanization and extensive human intervention has led to a worldwide huge increment in pollution and accumulation of toxic chemicals in air, soil, water etc. and because of this reason, agricultural soils contaminated with heavy metals have always been considered a critical challenge to scientists. Heavy metals are an essential regulatory test specified in the monographs of various synthetic and natural drugs. Exhaustive data collection and testing of heavy metal contents in raw herbs and a composition of metals in four geographical zones and their safety determination needs to be done. Natural compounds/drugs in india have been sold over the counter and prescribed by lot of local practitioners. However there is lack of data. Our research group focuses on the optimization of various bio remediation and phytoremediation measures to render soil free from heavy metal contamination. We will be focusing on using different strains of yeast, bacteria and fungi  as chief sources for bioremediation and potential grass and some weed species for phytoremediation.
PUBLICATIONS
Pooja Upadhyay, Arushi Saxena, Pammi Gauba "Biological Analysis Of Yamuna River " ; Journal of Materials Science and Surface Engineering (JMSSE)6 (6), 905-908 2019
Shubhangi Mathur, Girisha Maheshwari, Kajal Setia , Pammi Gauba "Exploring Phytoremediation Potential For Estrogen Hormone"  International Journal of Research and Review,Vol.6; Issue 9; September 2019; 195-202 
R. Barnwal and P. Gauba" Impact of Antibiotics on Plant Growth "World Journal of Pharmaceutical Research,7(18), 684-688 (PubMed, Google scholar)
 Sakshi Bajpai;Pammi Gauba "Need for Phytoremediation" Research Trends in Environmental Science (Volume - 2) 87-104
Bhatt E, Gauba P*,2018,Impact of Antibiotics on Plants ,Int. J. Pharm. Sci. Rev. Res., 52(1),; Pages: 49-53
Saxena,A and Gauba, P, 2018. Carbon Sequestration: A Solution to Global Problem. World Journal of Pharmaceutical Research,7(16), 189-202.
Saxena, A., Jain, A., Upadhyay, P. and Gauba, P., 2018. Applications of nanotechnology in Agriculture. Journal of Nanoscience Nanoengineering and Applications, 8(1), pp.20-27.
Parul Chauhan ,Sanjeev Agrawal; Pammi Gauba; Status of ambient air quality in selected state capitals and metropolitan cities of india, International Journal of Current Advanced Research,2018,7;3(A),10504-10509
Shaurya Singh., Sanjeev Agarwal Sanghita Roy Chaudhary and Pammi Gauba. The odd even experiment in delhi International Journal of Current Advanced Research2018,7;1, 9319-9322
Parul Chauhan, Mahender Singh Rawat, Pammi Gauba" Role of plants in indoor air remediation" International Journal of Engineering, Technology, Science and Research, 2017, 4 ; 9, 749-756
Mehak Aggarwal, Mahender Singh Rawat , Saumya Singh, Sahil Srivastava and Pammi Gauba  Generation gap: an emerging issue of society" International Journal of Engineering, Technology, Science and Research, 2017, 4 ; 9, 973-983
Swarna Shikha; Pammi Gauba Phytoremediation potential of three leguminous plants towards Chromium, Journal of Pharmacy Research, 11(4),2017,299-305
Shikha, Swarna, and Pammi Gauba. "Phytoremediation of Industrial and Pharmaceutical Pollutants." Recent Advances in Biology and Medicine 2016,2,113-117
J. Jain,S. Bajpai ; P Gauba "Adverse Health Effects Of Arsenic Toxicity" Journal of Civil Engineering and Environmental Technology:2016, 3 (8), 679-683
S .Shikha; P Gauba "Phytoextraction of Copper by Cicer Arientum" Int J Pharm Bio Sci 2016 Oct ; 7(4): (B) 161 – 166
Swarna Shikha and Pammi Gauba, Phytoremediation of pharmaceutical products,Innovare Journal of Life Sciences, Vol 4, Issue 3, 2016, 14-17.
T Joshi, G Gaur, M Agarwal, T Singh and P Gauba" Arsenic Toxicity" Journal of Chemical and Pharmaceutical Research;2016,8(6), 240-245
G Singh , A Sharma P Gauba "E-waste and its impacts "Asian Journal of Multidisciplinary studies 2016,4 (NO 5), 6-9
S .Shikha; P. Gauba "Phytoremediation of copper and ciprofloxacin by Brassica juncea:A comparative study" Journal of Chemical and Pharmaceutical Research, 2015, 7(11):281-287( Scopus indexed)
S. Gahlawat· P Gauba "Phytoremediation of aspirin and tetracycline by Brassica juncea" International Journal of Phytoremediation DOI:10.1080/15226514.2015.1131230 (Impact Factor: 1.739)
Gauba P., "Lactose Intolerance –A Review". Current Nutrition & Food Science Vol: 11 (3) pp209-212, 2015. [Indexed in Scopus]
Ankita Prakash ,Anjali Verma, Shefali Goyal and P Gauba . "Remediation of Antibiotics from the Environment"Journal of Basic and Applied Engineering ResearchVol2(8), 632-636,2015
Shefali Goyal, Ankita Prakash , Anjali Verma, and P Gauba ."Remediation of Heavy Metals"Journal of Basic and Applied Engineering Research Vol2(9), 727-729,2015
S Ghura, M Shakeel, SGaur and P Gauba. "Mercury Neurotoxicity: a review of case studies "Asian JournalOf Multidisciplinary Studies Vol.III, Issue 1,9-16,2015
A.K.Mishra, A. Sahu, Deepika, A. Singh, P.Gauba "Phytoremediation of Heavy Metals"Journal of Pharmacy Research Vol.8 Issue 9,8(9),1233-1238, 2014
S. Gahlawat, M. Makhijani, K. Chauhan, S. Valsangkar and P.Gauba. "Accessing the phytoremediation potential of Cicer arietinum for Aspirin" International Journal of Genetic Engineering and Biotechnology, 5(2),161-168 ,2014.
M. Makhijani, S. Gahlawat, K. Chauhan, S. Valsangkar and P. Gauba," Phytoremediation potential of Cicer arietinum for Tetracycline" International Journal of Genetic Engineering and Biotechnology, 5(2), 153-160 ,2014.
P. Aggarwal, S. Gaur and P. Gauba. "Neurotoxic and genotoxic effects of methyl mercury,"Environ Dev Sustain, vol.16, pp.71-78, 2014.
S.Gaur, P.Gauba, S.K.Maheshwari, and Rachana, "Transgenic plant production technology: Present and Future Prospective",Pharma Review, Vol.10, no.55, pp. 89-96, 2012.
S.Gaur, S.K. Maheshwari, P Gauba. "Transgenic Plants: factories for the production of biomedicines".Journal of Pharmacy Research,Vol 5, No 9, 2012.
R Malhotra, S Agarwal ,P Gauba. "Phytoremediation of Radioactive Metals" Journal of civil Engineering and Environment Technology 1 (5), 71-75,2014
S Kaul, P Gauba. "Bioaugmentation-A strategy for cleaning up soil" Journal of civil Engineering and Environment Technology 1 (5), 68-70,2014
Aalapti Singh, Pammi Gauba. "Mycoremediation:A treatment for heavy metal pollution of soil" Journal of civil Engineering and Environment Technology 1 (4), 59-61,2014
PUBLICATIONS/PRESENTATIONS IN NATIONAL /INTERNATIONAL CONFERENCE PROCEEDINGS
P. Chauhan,M.S.Rawat, P Gauba " Air remediation using indoor plants"BESCON2017
A.Jain, A Saxena, R Verma, P Gauba " Biochar: A Remediation For Soil " BESCON2017
MSRawat,S Bhadouria, P Upadhyay, P Gauba " Biochar: As Adsorbent For Waste Water treatment" BESCON2017
A Saxena, A.Jain, P Upadhyay, P Gauba "Applications of nanotechnology in Agriculture"Trends in nanobiotechnology-BIOTIKOS2017
M.S.Rawat, R Verma, P.Chauhan , P Gauba "Ground water Treatment using nanoparticles"Trends in nanobiotechnology-BIOTIKOS2017
P.Chauhan,A Negi, M.S.Rawat, P Gauba "Pollutant Remediation through nanoparticle based Paints"Trends in nanobiotechnology-BIOTIKOS2017
P.Thakur,P.Gauba"Biogenic Uraninite"Trends in nanobiotechnology-BIOTIKOS2017
R Verma. P.Chauhan, P. Gauba "Aspects of nanotoxicity in Lipid Reconstruction"Trends in nanobiotechnology-BIOTIKOS2017
J.Jain ; S . GaubaAssessment of Arsenic Toxic Levels in Oryza sativa SamplesWorld Congress & Expo on Biotechnology and Bioengineering , 2017,
P. Chauhan; P.Gauba S.Aggarwal; S.R.Chaudhary "Status of Ambient Air Quality of Topographical different cities" International conference on advances in Plant and microbial biotechnology
M.Jain; R.Barnwal P.Gauba "Phytoremediation of lead by Vigna Mungo"  Indo Global journal of Pharmaceutical Sciences.2017, 7(1):19,International conference onadvances in Plant and microbial biotechnology
M.Yadav; P.Gauba"Neurotoxicity of heavy metals"Indo Global journal of Pharmaceutical Sciences.2017, 7(1):10,International conference on advances in Plant and microbial biotechnology
J.Jain ;S.Bajpai; P. Gauba "Heavy metal Toxicity"Indo Global journal of Pharmaceutical Sciences.2017, 7(1):11International conference on advances in Plant and microbial biotechnology
S.Aggarwal; S.R.Chaudhary S. Singh; P.Gauba; Odd Even rule Cleaning up delhi's Air?"Indo Global journal of.2017, 7(1):64, International conference on advances in Plant and microbial biotechnology
Abstract published on "Phytoremediation technology in "1st NATIONAL Conference on  "Emerging Trends in Chemical Sciences, 2016"  (ETCS-2016)on 3-4th February 2016 at Kirori Mal College, Department of Chemistry, Delhi University.
Soumya Singh, Harshit Saini, and Pammi Gauba "MEOR Technique",CyberSrishti-2016 JIIT Noida,May 2016
Shagun Shukla ; Pammi Gauba" Role Of Free Radical In Environmental Pollution" International conference on biotechnological advancements in free radical biology and medicine Integral University, Lucknow, P69,November 2015
S. Shikha; P. Gauba "Application of Phytoremediation technology in removal of E-waste toxicity"National seminar on Innovative ,advance research in Biomedical and Environmental Dynamics(UGC)46,2015
R Malhotra , S Aggarwal, R Agarwal , P .Gauba "Phytoremediation of radioactive metals" Indo Global Journal of Pharmaceutical Sciences, 4(3): 167, 2014
A Singh, P Gauba "Phytoremediation of Organic Compounds" Indo Global Journal of Pharmaceutical Sciences, 4(3): 171, 2014
Makhijani M., Gahlawat S., Chauhan K., Valsangkar S. and Gauba P.," Phytoremediation of Tetracycline and Aspirin by Cicer arietinum", in International Conference on Future Prospects of Advancements in Biological Sciences, Health Issues and Environmental Protection, 2014, pp.24.
V. Bhatia, A.Jaitly, P.Gauba,"Cadmium and Arsenic-induced genotoxicity" in International Conference on Bioproducts and Omics Revolution,2013 ,24
P .Gauba," A Study of lactose intolerance in children"Indian Council of Chemists, Eleventh annual conference, AO-53, pp. 123, 1993.
A.K.Mishra, A. Sahu, Deepika, A.Singh, P.Gauba,"Phytoremediation: a Tool for Heavy Metal remediation" inSPER-2013 Jamia Hamdard, New Delhi, March2013,16
R.D. Shukla, P. Gauba, Resource modules for high school teachers and students 1.Mole concept and stoichiometry, 2. Drugs and pharmaceuticals, 3.Biomolecules, 4. Some Basic Principles of organic Chemistry published by NCERT
NATIONAL AND INTERNATIONAL CONFERENCES
International conference on advances in Plant and microbial biotechnology PMB-2017; Department of Biotechnology,Jaypee institute of information technology, NOIDA
International Conference on Advances in Biosciences and Biotechnology :  (ICABB-2018); Department of Biotechnology,Jaypee institute of information technology, NOIDA
FDP"Bioentrepreneurship", Department of Biotechnology,Jaypee institute of information technology, NOIDA,2017
18th to 23rd July 2016, Faculty Development Program on "Recent Advances inDiagnostics and Therapeutics", Jaypee Institute of Information Technology, Noida
"Workshop on Plagiarism & Reference Management using Mendeley" Department of Humanities and Social, JIIT Noida, Oct 16th 2015
"Intellectual Property Awareness Program 2015-16 ". JIIT ,Noida ,8th March 2016
"Emerging Trends in Biomathematics" sponsored by SERB, DST, Government of India held at Department of Biotechnology, JIIT,29 November 2014
"FDP on Advanced Computing Methods" Department of Biotechnology, JIIT,28-August 2, 2014
"IP Awareness Workshop". Jaypee Institute of Information Technology, Noida. 23rd August, 2014
"International conference IC LIFE "Department of Biotechnology, JIIT. 29 and 30 August 2014
"Up scaling and mainstreaming Renewables for Energy Security ,Climate Change and economic Development",Delhi International Renewable Energy Conference,DIREC 2010, organized by Ministry of New and Renewable Energy, Government of India, at Expo Mart Greater Noida, Oct. 27-29, 2010
"Science and Innovation for transforming India", CSIR techno fest 2010 organized by CSIR, Government of India, at Pragati Maidan, New Delhi. Nov. 14 - 27, 2010
"Workshop on development of syllabi in DESM"organized by NCERT, New Delhi, Oct 2000.
"A study of lactose intolerance in children".Eleventh Conference of Indian Council of Chemists. L.S. College, Bihar University, 29th -31st December 1992
"How to write and get your science published"Author workshop by edanz and springer Conference Centre, Delhi University, North Campus, New Delhi, August 2012
MEMBERSHIP OF PROFESSIONAL BODIES/ NATIONAL/ INTERNATIONAL COMMITTEES
Life Member, Indian Science Congress Association
Life member, Society of Biological Chemist of India.
The Association of Microbiologists of India (AMI)
Bioinformatics organisation
BOOK CHAPTERS
Advances in Bioresources, Biodiversity and Therapeutics,' I.K.InternationalPvt. Ltd 2020.
Sakshi Bajpai;Pammi Gauba "Need for Phytoremediation" Research Trends in Environmental Science (Volume - 2) 87-104
S. Gahlawat and P.Gauba "Phytoremediation of Pharmaceutical Drugs"The Encyclopedia of Environmental Management. Taylor and Francis(DOI:10.1081/E-EEM-120053281)aug.2015
SPONSORED R&D PROJECTS
Bilateral Scientific & technology Cooperation between Republic of Egypt and Republic of India) Indian Contribution: INR 8,35,000/-.DST.
Developing Functional bacterial cellulose composites as immobilization matrix.UP-CST/6.8 Lakhs.Co.PI: Dr.PammiGauba.
"Evaluation of the heavy metals content in the market samples of plant raw drugs used in Ayurveda"PI: Dr. Pammi Gauba. Amount: 410692/-Nov 2017-Nov 2020
Ministry of Forest and Environment, PI: Prof. Pammi Gauba (Department of Biotechnology, JIIT Noida),"Exploring efficacy of plants and microbes for remediation of E-Waste Contaminated Soil" PI: Prof. Pammi Gauba (Department of Biotechnology, JIIT Noida.Amount:--Rs 4792980/-
Patents filed--2