Under the Centre of Excellence Scheme, faculty teams from different departements across Jaypee universities are encouraged to work together to achieve well-defined deliverable. The central objective of this scheme is to create and enhance a research and innovation ecosystem in the Jaypee universities. It is expected that the faculty groups will submit group innovation projects to external funding agencies.
1. Artificial Intelligence for Education
The central object of this activity is to develop i) AI tools for automatic generation of student's exercises in learning programming concepts, ii) assessments that will offer detailed and immediate feedback to students related to their learning progress, iii) to convert speech to Indian sign languages to aid hearing impaired learners, iv) tools to identify the learning style and pattern to facilitate learning for an individual and v) development of a teacher-bot to act as an interface to provide personalized education through AI.
CoE on AI for education has been developed at JIIT. Similar groups are being formed at JUIT, JUET and JIIT (sector 128 campus). It is planned to build a strong collaboration between 4 groups leading to the formation of a cluster of excellence.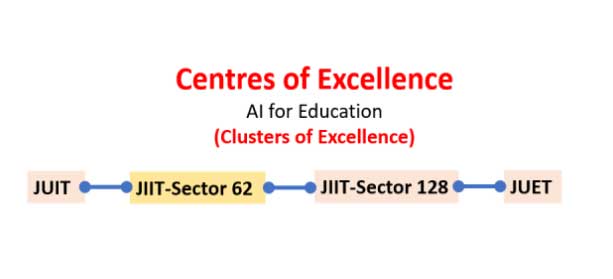 2. Bio-Technology solutions for soil and water remediation (JIIT)
The research focus of this CoE is to create an Incubation facility and pilot stage plants to address issues of pollution in soil & water.
3. UAV and electronic border security (industrial fencing) (JIIT)
The central focus of the CoE is to carry out work on simulation and development of separate and hybrid acoustic and RADAR system for drone detection. Design of compact Smart antenna system using switched beam technology and blockchain based border security system. One of the important deliverables of this group is to develop an integrate and complete system for Industrial fencing.
4. Intelligent evaluation and rehabilitation of structures (JUIT)
The aim of this activity is to develop an prototype of early landslide detection system and stone crete blocks and helical soil nailed slope. In addition, development of android-based GUI for real time information and warning on potential landslide threats will be developed.