Vice-Chancellor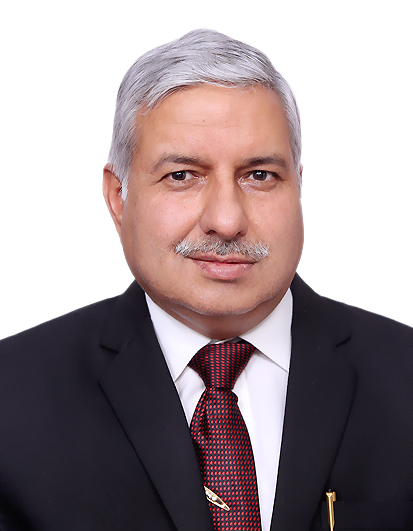 Professor (Dr.) Yog Raj Sood
Vice-Chancellor
Biography
Dr. Yog Raj Sood has taken over as Vice-Chancellor with effect from 14 June 2021. Dr Sood has an outstanding administrative, academic, research experience of more than 36 years.
He obtained his B.Sc. degree from Govt. college for Men Chandigarh (Punjab University Chandigarh) in 1980, B.E. (Honours) Electrical Engineering in 1984 & M.E. Electrical Power System in 1987 from Punjab Engineering College Chandigarh, and Ph.D. from I.I.T. Roorkee in 2003.
He has been a lecturer at Electrical Engineering Department of TIET Patiala from 6th January 1986 to 31st July 1986, at Electrical Engineering Department of N.I.T Kurukshetra (Haryana) from 1st August 1986 to 28th August 1991, Assistant Professor (equivalent to Associate Professor) at Electrical Engineering Department NIT Hamirpur (H.P.) from 29th August 1991 to 18th May 2003, Professor from 19th May 2003 to 27th April 2017 and Professor (HAG) w.e.f. 28th April 2017 to 13th June 2021.
He has worked as Director, Chairman Board of Governors (BOG)at NIT Puducherry. He has worked as Dean (Research & Consultancy), Dean (Planning & Development), Dean (Faculty welfare) and Dean (Industrial Research Development and Consultancy), Head of Electrical Engineering Department, Member of BOG, Member of Senate, Coordinator/Chief Coordinator/ Professor In-charge of TIFAC-CORE, Chief Vigilance Officer, Chairman Admission Committee, etc. at NIT Hamirpur and member of Senate, at NIT Calicut (Kerala).
He has delivered more than 90 key notes/expert lectures in various international conferences, workshops, short term courses, etc in India and abroad. He is the editor of three international books (twoSpringer Publisher and one Elsevier Publisher), many conference proceedings and technical reports. He has worked as Chairman/member of selection/interview boards for the various teaching and technical posts. He has organized & participated many short-term trainingprogrammes / short term courses and conferences. He has developed completely High Voltage Engineering Lab. from its very start and set up new experiments in various labs.
He has successfully completed three MHRD research projects and one mega projects under TIFAC- CORE of Rs. 530 Lakhs. Twelve research scholars have already completed Ph.D. under his guidance. Two more research scholars are pursuing their Ph.D. under his guidance. One of Ph.D. thesis has been awarded POSOCO Power System Award (PPSA-2013). He has guided more than 70 PG Dissertations and many UG Projects. He has Published more than 370 research papers in International & National Journals including several papers in SCI Journals, IEEE Transactions and conferences and many chapters in various international books. One Patent has been granted and two Patent applications published in official journal of the patent office of Government of India. He is Chief editor/ editor referee/reviewer of top most International Journals in Electrical Engineering including IEEE transactions. He has worked as examiner for evaluation of Ph.D. and M.Tech thesis of various Indian and Foreign Universities/Institutes. He has received several awards/prizes/honoursincluding Best Educationist Award, Ministry of Energy-Department of Power Prize, by the Institution of Engineers (India), IETE Gowri Memorial Award etc. He has visited Montreal (Quebec, Canada), Singapore, Bangkok (Thailand), London (UK) and Sydney (Australia) regarding key note address and presentation of his research papers in various international conferences.
He is a Senior member of IEEE, life member of Indian Society for Technical Education (ISTE), fellow member of Institution of Engineers (India), and member of many other technical societies. His areas of interest are Artificial Intelligence, Renewable Energy, Micro Grids, Deregulated Power System,High Voltage Engineering, Condition Monitoring etc.