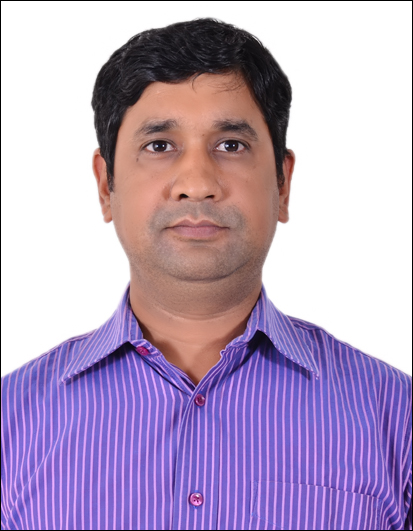 Education
BTech, MTech, PhD 
Biography
Currently working with deptt. of ECE at JIIT, Noida Sector-128 Campus. Before that worked for JUIT, Waknaghat, Amity University, JSSATE Noida. Completed PhD from JUIT, Waknaghat in year 2014. Obtained B.Tech degree (2001) in Electronics & Communication Engineering from G.B Pant engineering College, Pauri Garhwal and MTech. (2006) in Digital Communication from UPTU Lucknow. Early Education was completed in Uttarakhand, secured 16th rank in state (U.P Board), Yr-2006, Intermediate exams.).
Interest Area(s)
Wireless communications (OFDM) (Reviewer For IEEE wireless transaction, Springer WPC,WSEAS transaction on communications and Hindawi journal on communication and networks)
Work Experience: 17 years-Teaching
Associate Professor: September 2018 toll date
Assistant Professor: 12.07.2010 till date, Jaypee Institute of Information Technology, Noida.
Assistant Professor: 06.07.2009 To 10.07.2010, Jaypee University of Information Technology, Solan (H.P).
Assistant Professor: 01.12.2006 To 05.07.2009, AMITY University, Noida.
Lecturer 01.08.2001  To 31.11.2006, JSSATE, Noida.
Subjects Taught
Teleommunication networks, Mobile communications, Analog communications, Digital Communications etc.
Publications
International Journals
M. Bisht, A. Joshi "Various Techniques to Reduce PAPR in OFDM Systems: A Survey" International Journal of Signal Processing, Image Processing and Pattern Recognition , Vol.8, No.11,2015, pp.195-206 (indexed in Scopus)
J. Shukla, A. Joshi, R.K. Tyagi, "A Novel Low Complexity GA Based PTS Method for PAPR Reduction in OFDM Systems", International Journal of Control and Automation, Vol. 11, No.1, pp.63-74, 2018 (indexed in Scopus)
A. Joshi, Davinder S. Saini, "PTS using Novel constellation extension scheme for PAPR Reduction of OFDM signals without side information", in Inderscience Journal on Information and Communication Technology, Vol. 11, No. 3, 2017,pp.382-395. (indexed in Scopus, ACM DL)
A. Joshi, D. A. Gupta, P. Jaipuriyar , "Implementation of low complexity FFT, ADC and DAC blocks of an OFDM Transmitter Receiver using Verilog ", in Journal of Information Processing System, accepted for publication (indexed in Scopus, ACM DL)
A. Joshi, S. Jain, S. Saxena , "PAPR Reduction in OFDM System using Hybrid PTS -RCMN Scheme", in Inderscience U.K International Journal of wireless and mobile Computing, accepted for publication (indexed in Scopus, ACM DL)
A. Joshi, Davinder S. Saini, "Performance Analysis and PAPR Reduction of Coded OFDM System using Modified SLM, PTS and DHT Pre-coding in Fading Environments", in WSEAS Trans. on Communication. Vol. 12, Issue 1, pp.14-28, January 2013. (indexed in Scopus)
A. Joshi, Davinder S. Saini, "Peak-to-Average Power Ratio Reduction of OFDM signals Using Improved PTS Scheme with Low Computational Complexity", in WSEAS Trans. on Communication. Vol. 12, Issue 12, pp. 630-640, December 2013. (indexed in Scopus)
A. Joshi, Davinder S. Saini, "GA-PTS Using Novel mapping scheme for PAPR reduction of OFDM signals without SI", in Springer Wireless Personal Communication. Vol. 92, Issue 2, pp.639-651,Aug 2016. (indexed in SCI, Scopus)
International Conferences
A. Joshi, K. Nigam, S. Bansal,  "Iterative-Grouping and Image PTS for PAPR Reduction in OFDM System", in proceedings of  International Conference on Signal Processing & Integrated Networks", (SPIN 2016), Amity University,  India, 11-12 Feb 2016 (indexed in IEEE Xplore,SCOPUS)
A. Joshi,  R.K. Tyagi ,"Improved Mirror Image Candidate based Low computational complexity Partial transmit sequence technique for  PAPR Reduction in OFDM Systems", in proceedings of  International Conference on Computing, Communication and Automation", (ICCCA 2016), Galgotia University, pp. 1320-1324 ,  India, 29-30 April 2016 (indexed in IEEE Xplore.SCOPUS)
A. Joshi, K. Nigam, S. Bansal ," Grouping and Mirror-Image PTS forPAPR Reduction in OFDM Systems ", in proceedings of  Sixth International Joint Conference on Advances in Engineering and Technology (AET2015),  India, 12-13 December  2015 (indexed in web of sciences, EI, Search)
A. Joshi,  N. Airee, B. Shukla, S, Bali, "Extensive Performance Analysis of STBC System with and without perfect CSI in Various Fading Channels", in proceedings of  International conference on signal processing and communication (ICSC2016), , JIIT  India, 26-28 December 2016  (indexed in IEEE Xplore,Scopus)
A. Joshi, S. Bali, H. Tiwari,  "PAPR Reduction of Coded OFDM System Using Low Complexity PTS' ", in proceedings of  International conference on signal processing and communication (ICSC2016), , JIIT  India, 26-28 December 2016  (indexed in IEEE Xplore, Scopus)
A. Joshi, Davinder S. Saini, "COFDM performance in various Multipath fading environment ", in proceedings of IEEE International Conference (ICCAE 2010) ,vol.3, pp 127-131,Singapore, Feb 26-28, 2010.(indexed in IEEE Xplore)
A. Joshi, Davinder S. Saini, "Performance Analysis of Coded OFDM for Various Modulation Schemes in 802.11a Based Digital Broadcast Applications", in proceedings of International Conference (BAIP 2010) , Kerala,Vol-70,pp 60-64, INDIA. March 2010 (indexed in Springer LNCS-CCIS)
A. Joshi, Davinder S. Saini, "Performance Analysis of coded- OFDM with ICI due to Frequency Offset", IET UK/IEEE International conference on Advances in Recent Technologies in communication & Computing, ARTCOM-2011;Bangalore, Sept14-15,2011 (indexed in IEEE Xplore and IET DL)
A. Joshi, Davinder S. Saini, " PAPR Analysis of Coded- OFDM System and Mitigating its Effect with Clipping, SLM and PTS  ", in proceedings of IEEE International Conference (ICIMU-2011), Malaysia, Nov. 14-16, 2011.(indexed in IEEE Xplore)
A. Joshi, Davinder S. Saini, " Performance Analysis Of Coded-OFDM with RS-CC and Turbo codes in Various Fading Environment ", in proceedings of IEEE International Conference  (ICIMU-2011), Malaysia, Nov. 14-16, 2011.(indexed in IEEE Xplore)
A. Joshi, D. Bhardwaj, Davinder S. Saini , "PAPR reduction in OFDM with FEC (RS-CC and Turbo coding) system using DHT pre-coding" IEEE International symposium (IMSNA-2012),  July,2012 Shenyang, China.(indexed in IEEE Xplore)
A. Joshi, R.Bansal, Davinder S. Saini, "PAPR and Performance analysis of LDPC-RS concatenated OFDM system with modified PTS", in proceedings of Second International Conference on Emerging Research in Computing, Information, Communication and  Applications"( ERCICA-2014), Vol-1, pp-573-579, 01-02 Aug. 2014 (Indexed in DBLP, Search and Elsevier ST digital library).
A. Joshi, R. Bansal  Davinder S. Saini, "Performance Analysis and PAPR Reduction of Turbo Coded OFDM using hybrid ZCT based PTS", in proceedings of Second International Conference on Emerging Research in Computing, Information, Communication and  Applications"( ERCICA-2014), Vol-1, pp580-586, 01-02 Aug. 2014 (Indexed in DBLP, Search and Elsevier ST digital library).
A. Joshi, R. Bansal,J.Shukla, R. Tyagi  "PAPR Reduction of OFDM systems Using PTS with Genetic Algorithm at low computational complexity", in proceedings of IEEE International Conference on R e c e n t   A d v a n c e s and Innovations in Engineering (ICRAIE-2014), May 09-11,  2014 (indexed in IEEE Xplore)
A. Joshi,  Davinder S. Saini, "Performance Analysis and Peak-to-Average Power Ratio Reduction of Concatenated LDPC Coded OFDM system Using low complexity PTS", in proceedings of  International conference on signal processing and communication (ICSC2015), JIIT  India,pp. 195-200, 16-18 March 2015(indexed in IEEE Xplore)
A. Joshi, "A comparative performance analysis of OFDM using IEEE 802.11a standard with BPSK,QPSK,QAM-16 & 64,", in proceedings of  International conference RTSCIT 10, Bhopal India, Feb-2010
National conferences
Paper presented in "NCICT-07", National Conference on Information & Communication technology at NMIMS Mumbai organized by IEEE, CSI & Mumbai University.
Paper published in CCSV-09 at Oxford Engg. College Bangalore, Oct 2009
Book Chapters
S.Kalia, A. Joshi" 'Low Complexity, Side Information free novel PTS technique for PAPR reduction in OFDM systems," 2018" in Book Series Lecture Notes in Electrical Engineering, The Advances in Signal Processing and Communication-Select Proceedings of ICSC 2018. (Springer LNEE)
A. Joshi, S.Garg, R.Wason, A.Manas" 'PAPR Reduction Comparison in FFT based OFDM vs DWT Based OFDM," 2018 in Book Series Lecture Notes in Electrical Engineering, The Advances in Signal Processing and Communication-Select Proceedings of ICSC 2018. (Springer LNEE)
A. Joshi, E. Garg, A. garg, N. Garg," PAPR Reduction analysis of OFDM Systems using GA, PSO and ABC based PTS Techniques in Book Series Lecture Notes in Electrical Engineering, The Advances in Signal Processing and Communication-Select Proceedings of ICSC 2018. (Springer LNEE)